To celebrate International Day of Girls and Women in STEM 2022, we have spoken with three of myota's women in science to discuss their experiences.
Although women make up 47.7% of the workforce, they only make up 28% of the STEM workforce. Although this is a vast increase compared to the 8% in 1970, we still need to champion women to achieve equal representation. 
In celebration of the talented women working across myota's STEM departments, we have sat down with three of them to discuss their experiences.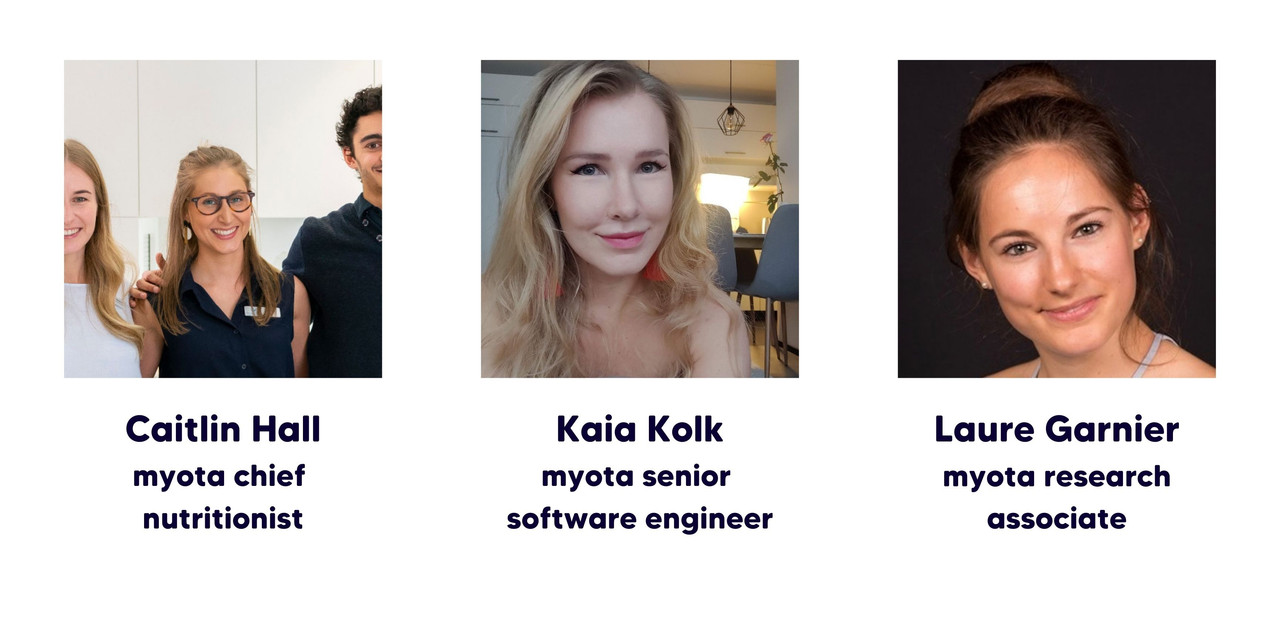 What degrees do you hold? 
Caitlin: I have a bachelors of exercise and nutrition science, a bachelors of journalism, a masters of dietetic studies and a PhD in gut microbiology and neuroscience.  
Kaia: I currently hold bachelors and masters degrees in chemistry and biotechnology.
Laure: I have bachelors and masters degrees in biological and molecular chemistry.
What is the most interesting project you have ever worked on?
Caitlin: My PhD. We tested different people's microbiomes and then put them into an MRI scanner and looked at how the regions of the brain communicated with each other, to see whether the composition of your gut bacteria influenced how you responded to different tasks in the scanner. 
Kaia: I think [myota] is definitely top three, because I have a huge responsibility and I have to do everything from front-end back-end deploying databases, SYS administration, and it's super interesting because many of these things, I've never worked with before. 
Laure: Definitely my experience at myota. It has been the most enriching because I've learned a lot, and it was a very big surprise for me to end up in this domain. What makes it interesting is it touches everybody, because everybody has gut problems. It also brought me to work more with patients, which I had never done before.
What has been your greatest academic/professional achievement?
Caitlin: Running a marathon! But professionally, maybe getting to the end of a PhD.
Kaia: If I get this app up and running, it would be my greatest achievement because it's quite huge, it's not a simple app. It has some cool features.
Laure: My bachelors was the hardest part for me. I was very happy to achieve it, and it was a huge relief when I did. Having to adapt to the Swiss system coming from France was a massive change. The marks are different and the way you needed to study was just a different way of working.
Did you have a mentor?
Caitlin: My PhD co-supervisor. She is an incredibly successful female in academia. She is kind of a unicorn in academia - one of the most brilliant minds I've ever met but equally patient, caring, thoughtful. Something you don't get see in academia.
Kaia: Yes, definitely. I had a great mentor. He was my co-worker and actually I had been learning under his guidance the whole time. He gave me different tasks and exercises and went through data solutions with me. I'm thankful for him, because without him, it would have taken me much longer [to get things done].
Laure: Not really a mentor, I would say more a group helping each other. We all studied together and whenever we had questions, we would just, send a message… but not one mentor in particular.
What advice would you give somebody going into the world of STEM?
Caitlin: When I was leaving school, I never considered a career in science. So my advice would be to keep your options open, and consider all opportunities that come your way. Enjoy what you're doing and surround yourself with inspiring and passionate people. 
Kaia: Go into science if you feel you really want to. I really liked chemistry in school, but I wasn't quite convinced that I would like to work as a chemist. I started computer science for fun, and maybe I should have studied it from the start.
Laure: Try to put the effort in to understand what you're studying, because, at the end it's always worth it. You gain interests with the time you put into something. It can be a little discouraging because you feel overwhelmed – you have a lot of work, but at the end, it's worth it.